If you're trying to access TextNow from a rooted or emulated device, you might see this error: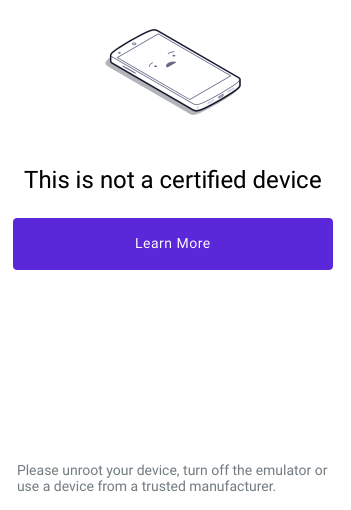 TextNow can only be accessed on mobile by non-rooted, physical, compatible devices: Android smartphones, iPhones, and 3G/4G data-enabled tablets. It cannot be accessed by computer-based Android or iPhone emulators, or devices that have been given root access (i.e. "rooted"), or have had their operating software modded or otherwise modified.
If you have a used phone that you didn't purchase from TextNow, it might be rooted without your knowledge. If you have an Android device, you can run a quick test by downloading an app called SafetyNet Helper - don't worry, it's completely free. If you run that app and see a big green check mark, your device is not rooted. If you see a big red X, it's a rooted device.
If your device is coming up as NOT rooted by SafetyNet Helper please try force stopping the app and try to logging in again. If you continue to experience this error please contact Support. Chat is available on our support pages - including this one! - from 10am-5:30pm, every day, Eastern time